When the movie about Italy's novel coronavirus outbreak is made, the hero will be a bespectacled doctor on the cusp of retirement, whose last rodeo is saving his city, his country, and possibly the world. In the fictional version, he'll probably perish in an act of noble self-sacrifice. But for now, Massimo Galli of Milan's Sacco hospital is not only well, but on a mission to make people who minimize the contagion's severity understand that they're quite simply wrong.
Throughout history, denial has yielded to reality in stages—and usually too late, according to Galli, who helps oversee the fight against infectious diseases in Lombardy, the region around Italy's financial capital, Milan. "There's a first phase, in which you elbow it away, saying, 'Our neighbor has it, ah, scary, but he's got it.' Then there's the phase in which you realize it's arrived in your house and you deny it, 'No it's impossible!' " Galli said on Italy's La7 television network on March 5. Next comes a tug of war in which inhabitants debate harsh preventive measures that are, tragically, reduced or taken too late.
"Finally, there's the phase of total ruin, in which the sickness runs rampant," he said—emphasizing that parts of Italy have reached that point. "If people think I'm exaggerating, tell them to come and see what's happening in our wards."
What happened next on that TV program helped catapult me from the land of "maybe it's just a flu" to "how dare anyone leave home without good reason." The network accepted Galli's challenge and dispatched a crew to an intensive care unit in Cremona, an hour's drive southeast of Milan.
The footage shows rows of naked men, unconscious, facedown, hands at their sides palms up, connected to tubes, with only small, white blankets covering their backsides. They aren't wrinkled and ancient as you might have pictured (or callously written off), but robust-looking and pink-fleshed—alive only because they're hooked up to those machines. What registers is the motionless bodies—and that they could just as well be in a morgue. By now, some of them probably are.
On March 10, Italy became the first democratic country since World War II to impose a nationwide lockdown. In just days, the outbreak spread from a northern crisis to a national one, now with more than 31,000 known infections and more than 2,500 deaths, second only to China. France and Spain were the next to clamp down, and in the U.S., dozens of cities including New York, Los Angeles, and San Francisco are rolling out restrictions that look an awful lot like Italy's just a few days ago. I hope they hurry up.
I'm writing at my dining room table in Rome (I've been instructed not to go to the office) and taking breaks to join my neighbors in singing out the window. (Last night it was an Italian version of A Spoonful of Sugar from Mary Poppins.) As we descend deeper into the lockdown, it's become clear that a lot of people back home in the U.S., and even elsewhere in Europe, remain in Galli's denial stages. "If you are old, sick or in poor health you should stay home, but my kids are none of the above," a friend-of-a-friend in the U.S. wrote on Facebook, complaining he was paying tuition for internet schooling. "This is just a joke. It's the flu."
When the first coronavirus case hit Rome, my wife and I mused that our kids should maybe find a new way to school; their standard route involved a shortcut through the grounds of a hospital that treats infectious diseases. Like me, you probably didn't read a lot of the early coverage of the outbreak in China. Initially swept under the rug by the communist government, it seemed far removed from what we might experience in Europe or the U.S. Sadly, Italy provides an example closer to home. "It's a precursor of what will happen in the U.S. and in Europe because of the speed at which the virus spread," says Nathalie Tocci, director of the Italian Institute of International Affairs in Rome.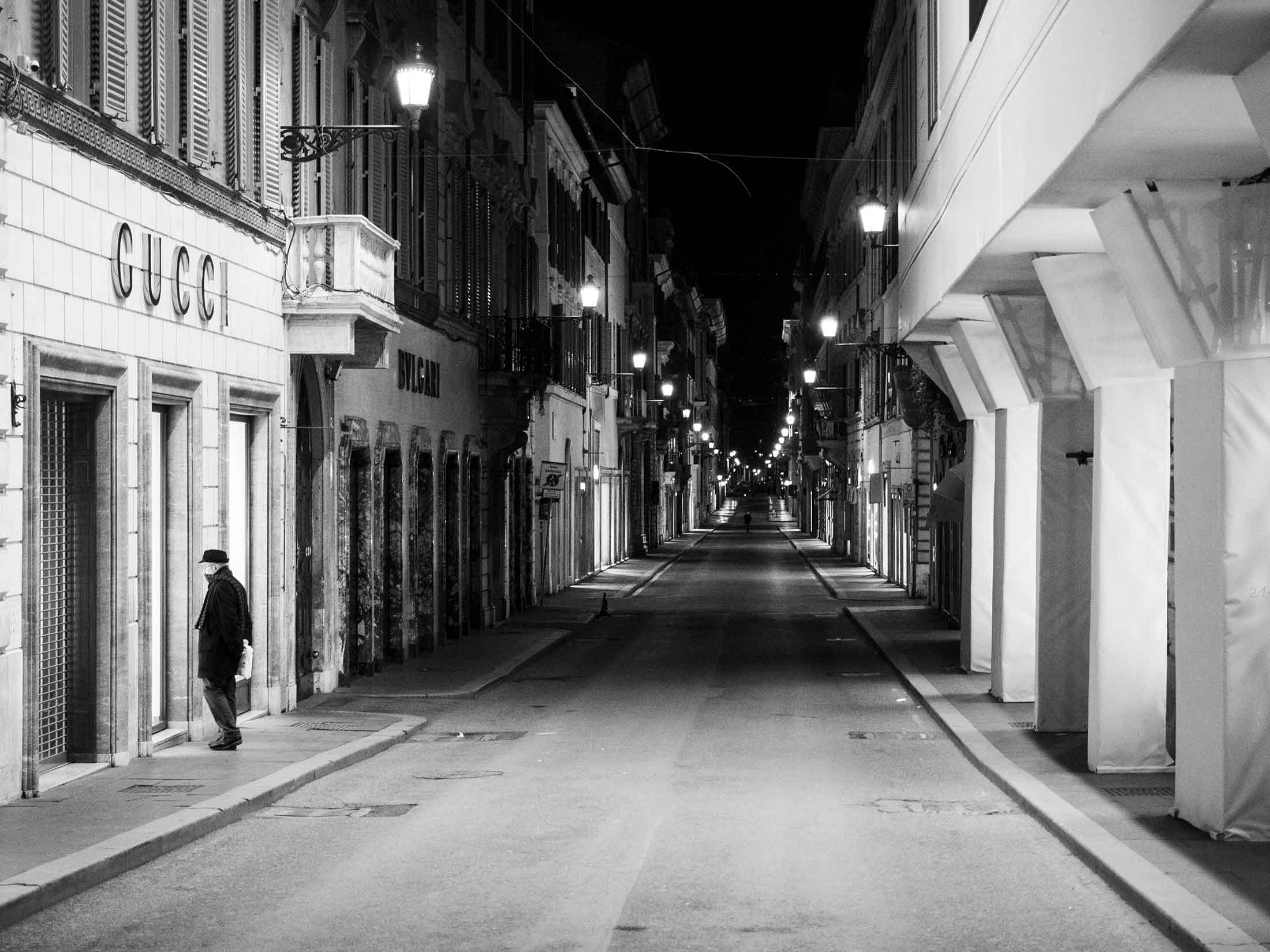 For me, fully acknowledging where we are required facts, images, and anecdotes. So here's what things look like on the ground:

About half of those known to be infected in Italy have no symptoms. But when symptoms appear, they do so quickly. About 9% of known positive cases in Italy require intensive care, and the death rate hovers around 6.5%. For those in their 80s, it's 19%. Even for those of us in our 50s, it's 1%—odds that sound pretty lousy to me.

Those intensive care beds can run out. Lombardy reports that the region started with about 900 slots and has ramped up to 1,200 by adding equipment and canceling scheduled surgeries. And dozens of nonvirus patients—people with strokes or other ailments—were moved elsewhere in the country. Those measures have helped Lombardy barely stay ahead of the curve. By March 17 it had 879 coronavirus patients in intensive care.

A more macabre reason Lombardy was able to free up ICU beds: death. The province notched an additional 220 deaths from March 16 to 17, bringing the total to 1,420. The city of Bergamo, northeast of Milan, has run out of space at the hospital morgue, and the crematorium at the local cemetery is burning nonstop.

On March 6, Italy's national society of anesthesiology and intensive care published recommendations for dealing with "exceptional conditions of imbalance between needs and available resources" in admissions. In other words, triage. If you're elderly or deemed to have little chance of survival, you'll be the first to be bumped off the respirator. The state of New York has had similar guidelines since 2015.

Even when it's not fatal, the virus can steal life's irreplaceable moments. Sara Herskovits Barrias, a 34-year-old expectant mother in Milan, had a low fever. When she tested positive for Covid-19, the disease caused by the virus, doctors delivered her daughter by Caesarean. For a brief time, Herskovits Barrias was allowed to nurse after scrubbing with sanitizer and donning a mask and rubber gloves. But when her fever spiked, doctors took the baby away, likely until the mother is fully recovered. "In the meantime," she told La Repubblica newspaper, "I listen to the sounds of the other babies."

Sometimes, literature can help frame a tragic, historic moment and put it into perspective. One reference that's popping up on Facebook is The Decameron, Giovanni Boccaccio's 1350s book in which a group of young people flee Florence for a country house where they ride out the plague by telling stories. It's a perfect fit for the current lockdown, but it doesn't capture the phenomenon I'm most concerned about: the ability of people to remain blind to a changing world until it's too late.
For that, we'll need Giorgio Bassani's The Garden of the Finzi-Continis. A couple of weeks back, I watched my son hit tennis balls on orange clay courts surrounded by umbrella pines while I scanned headlines about the first infections. I feared we were living a version of the novel, which was turned into a movie that won the 1972 Academy Award for best foreign-language film. The Finzi-Continis are an Italian Jewish family, and during the rise of fascism they feel unjustifiably safe as they play tennis and live out their lives within the walls of their villa. While their fate—Nazi death camps—in no way compares to our current situation, I got the first, unnerving sense that we were living in cloistered denial.
Two weeks ago it had seemed like a big deal when cases topped 1,000. Now that number seems naively small. The outbreak has infected more than 180,000 people in at least 138 countries and territories, shuttering cities, disrupting trade, and battering financial markets. As Europe braces for a recession, Italy is at the center of it all. And we barely saw it coming.
The evening I had my Finzi-Contini moment, I should have known we were beyond normal. The government had already closed schools, and soccer practices were banned because contact would be too close. But tennis continued. Kids made small adjustments—instead of high-fiving, they tapped the ends of their rackets.
By March 6, a Friday, the tourists had largely cleared out of the city, but for Romans life went on with barely a hiccup. We wanted to support local businesses and planned a dinner at a popular restaurant on our cobblestoned street. We couldn't get a table before 10 p.m., and then only because the owner (kiss-kiss to customers' cheeks) added an extra chair. By Saturday afternoon, life had started to shift in small ways that portended further change. Schools had announced what was supposed to be a one-week shutdown, and one of our kids followed a workout video sent by the gym teacher. Our local cinema was still open, but only alternating seats in every second row were supposed to be occupied.
That evening, we had friends over for dinner (those were the days). As we tucked into the liver pâté appetizer, we were all surreptitiously checking our phones. By the time we served the gelato, the checking was no longer furtive: News leaks indicated the government was about to extend the "red zone," which had closed a dozen towns in the north, to the entirety of the Milan region and a few other provinces, shutting in a third of the populace. The leak sparked confusion, even panic, prompting thousands to abandon what had been a warm evening of Aperol Spritzes in piazzas and rush onto packed night trains to escape.
If they could shut Milan, Rome might not be far behind. On the sofa after dinner, finishing the last of the bottle of wine, we contemplated returning to New York before getting caught in a clampdown. After our friends taxied home, at around 2:30 a.m. on Sunday, Prime Minister Giuseppe Conte took to the airwaves to make the rumored northern restrictions official. Milan, Venice, Padua, and points in between were sealed off for all but essential travel for work or health reasons.
Less than two days later, those measures were extended to Rome and the rest of Italy. Conte decreed that the world's eighth-biggest economy would be frozen in place. Pubs, discos, and gambling halls—anyplace people might be in tight quarters—were closed. Coffee bars and restaurants had to shut by 6 p.m., and when they were open, they, along with supermarkets and any other shops, had to keep customers at a one-meter distance from one another. The prime minister drove home his point with a Twitter hashtag, #iorestoacasa: "I stay at home."
Italians reacted with a mix of fear and relief: This was serious, but now there were rules they could cite in telling others to mind their personal space. At a butcher shop, I saw patrons in a line that extended into the street, with everyone spaced a meter or two apart. At supermarkets, bicycle deliverymen suddenly appeared, waiting to pick up online orders. To comply with the rules against nightspots, the Abbey Theatre Irish Pub, a popular spot for watching soccer, became a restaurant only, turning off its TVs, pasting signs over the storefront to obscure the word "Pub," and restricting drinks and food service to tables. As the curfew descended, the police showed they were serious, patrolling the streets with lists of bars and restaurants to check that they were empty and locked.
In the days that followed, health officials, especially in the north where infection numbers were soaring, protested that the measures weren't enough. Conte listened, and on March 11 he tightened things further, ordering virtually all retailers other than grocery stores, pharmacies, and gas stations to close. Factories, public transit, banks, and the postal service can operate, but restaurants, cafes, and bars were ordered to shut down.
Across Italy, the traditions of a gregarious, social people were upended. The piazzas, the heart of any Italian city or town, where kids roughhouse and their parents and grandparents meet for morning coffee or afternoon cocktails, were abandoned. Professional soccer matches were called off. Churches were closed. Local news reports say police in Sicily issued citations to an entire funeral cortege for violating a ban on group activities.
What's happening in the hospital wards—first in China, now in Italy and the rest of the world—threatens a chain reaction of unpaid bills, defaulted loans, and perhaps even a banking crisis with echoes of 2008. The economic impact is expected to be so great that the Italian government has earmarked €25 billion ($28 billion) for emergency aid to companies and workers and is implementing measures such as suspending or reducing payments for a range of bills, from taxes and utilities to mortgages. "We're at war," the owner of a vintage furniture shop said with a shrug as he rolled down the shutters, leaving a note with his mobile phone number on the metal gate.
Near Rome's historic Jewish Ghetto, a clothing boutique called Empresa posted a long notice in its windows that paid tribute to "the medical and paramedic personnel struggling on the front lines" of the battle against the coronavirus. "The good sense of all will save our beloved Italy," the note concluded. A store selling tickets and merchandise from the AS Roma soccer team told would-be customers that "the disruption of today will allow us to restart as soon as possible ALL TOGETHER. #iorestoacasa."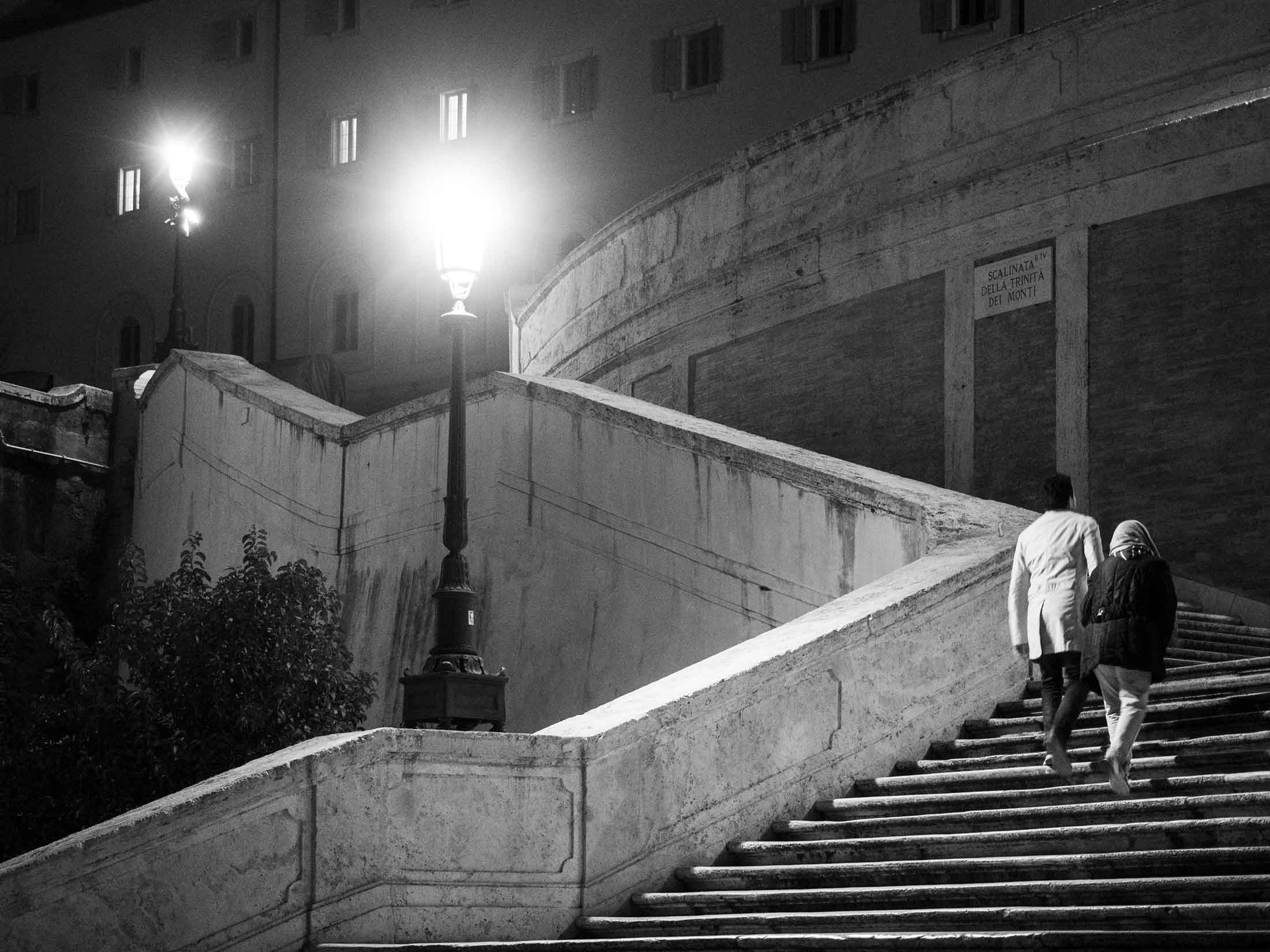 The meaning of being in it together also began to change. The open borders that have been at the heart of the European project have started creaking closed. Austria and Slovenia are allowing entry only to those who've tested negative for the coronavirus, and Switzerland sealed off some smaller crossings—the first in a slew of border controls that have since spread across the continent. On March 12, Italians awoke to the news of President Donald Trump's ban on most travel from Europe to the U.S. That was the day Rome became a ghost town. Wandering out for a run and a shopping trip (both allowed under the restrictions), we found just a handful of fruit and vegetable stands open at the normally bustling Campo de' Fiori market.
The merchants were desperate—for caffeine and a bathroom. The closing of the coffee bars, a de facto provider of food and sanitation to outdoor workers, had disrupted the natural order. One neighbor said she'd bring a thermos of coffee for a pair of vendors. We offered to make banana bread and were gifted an overripe bunch of fruit to turn into a quick batch that one of our kids would deliver, piping hot, an hour later. Just in time, as it turns out: By Monday afternoon, the entire market had been shuttered.
We also promised a neighbor a slice of the banana bread, but when it came time to deliver, she was a no-show. She texted that she was helping her father, who had just been notified that his urgent surgery scheduled for later in the month had been canceled because of the outbreak. These are the ripple effects. The statistics certainly will miss many who perish from other causes as health systems struggle.
The south represents the next challenge. All those people who fled southward after partying may have contributed to what are now snowballing infection numbers in regions such as Puglia, in the heel of the Italian boot, and Calabria in the toe. "There have been scenes of people at the beach or skiing or at mega-aperitivos," the head of Italy's National Institute of Health, Silvio Brusaferro, told reporters on March 13 at what's become a daily news conference at which the national figures are rolled out. "Those are places where the virus can circulate, and some of the people could end up positive."
From the human tragedy to the economic impact, the closest thing to the outbreak is a hurricane. As residents of Florida, Louisiana, or Texas will tell you, when the first reports of a tropical storm begin circulating, there's not much you can do other than lay in extra food and water, make sure you've got a good book and a battery-powered lamp to read it by, and wait. If you're unlucky enough to be in its path, you don't go outside for fear of falling victim to flying debris. That's what Italy feels like. And that's why I'm hopeful.
As a reporter covering Hurricane Andrew in 1992, I saw the destruction on the morning after landfall. From Florida City to Homestead and beyond, houses were flattened for miles. It seemed impossible that anyone had lived, but the death toll in the area was 44—terrible, but far less than I'd expected. Warnings from government scientists saved countless lives. People had taken precautions. More than 1 million had evacuated. And the recovery was marked with song. Gloria Estefan's Always Tomorrow, with royalties going to the victims, became a local anthem of resilience.
As you may have seen on TV, Italians have been singing anthems, too, from their windows and balconies. It's real, beautiful, and heartbreaking. The sacrifice right now isn't fun and borders on tragic: Weddings and funerals are banned, birthday parties postponed, educations derailed, businesses pushed to failure. But the harmonic flash mobs have been a voice for a people who are kept apart. One day at noon, there was a nationwide round of applause for the health-care workers on the front lines, who are getting infected and dying.
Whether by coincidence or design, the daily singing appointment is at 6 p.m., the exact time of the nightly reading of the death toll. The racket echoing off the walls and courtyards doesn't quite drown out the sadness of what's happening, but it's a reminder that by collectively deciding to stay apart, Italians might emerge from the storm with a lower toll than is expected today. —With Alessandra Migliaccio and John Follain