Photographer Jason Michael takes mind-blowing photos using a mixture of models and toys and shares insights into the unique world that combines precision, artistry, and film history and references.
Michael, based in Quebec City, Canada, teaches college classes for a living but dedicates his spare time to his hobby of intricate toy photography, the results of which have garnered thousands of views across his social media platforms.
Having collected toys for almost 25 years — with many still in mint condition — Michael has also had an interest in filmmaking. The realities of pre-production processes eventually left Michael frustrated, but still eager to create but without much of an outlet to do so.
It was then that he came across a Facebook post that featured visual artist Hot Kenobi and his images of toy superheroes in fun scenarios — like Batman and Superman crushing life-sized beer cans. This photo — as well as other visuals by Johny Wu and Magnus, a Finnish toy photographer — stood out to him and gave him an inkling on where to channel his own creativity and passions.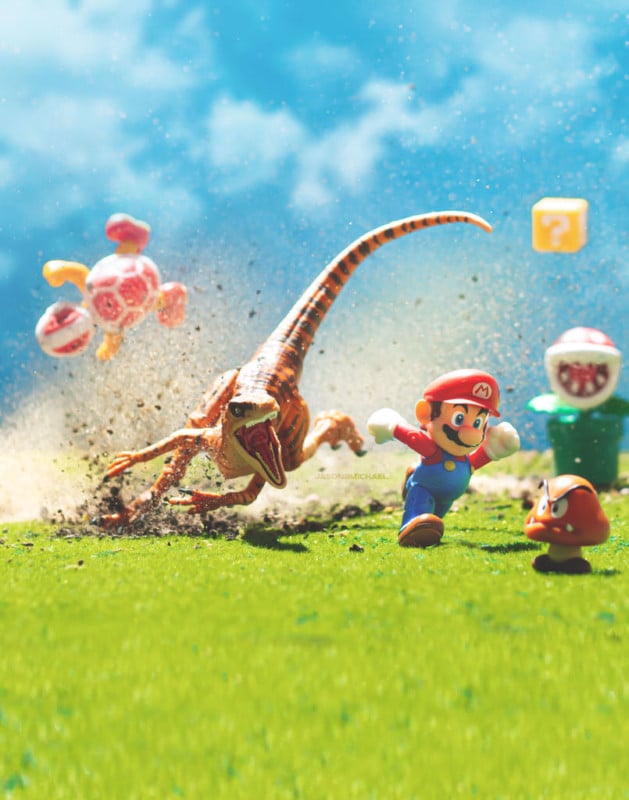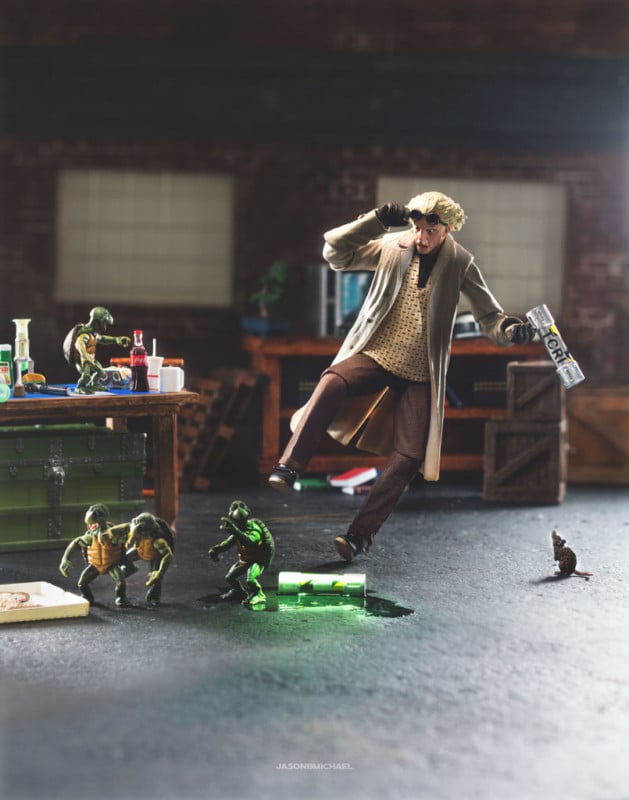 His first toy photograph was of a Luke Skywalker figure, inspired by Klaatou's photo of a Snowtropper figure slipping on ice. Combined with research on how to create blaster and lightsaber effects in Photoshop, Michael's first toy photograph — shot on a smartphone — was done and was the first of many photos he would go on to create that would slowly increase in intricacy.
This hobby has allowed Michaels to combine his love for both toys and film, as he sets up creative scenes for all of his toy characters in front of the camera. The environment and the right poses are just as important as the toys themselves, he tells PetaPixel.
"Whether it is a physical diorama, or a digirama — a method created by Jason Yang — which uses a television as a backdrop, or a combination of both physical and my television, I enjoy creating the world around the figures," he says.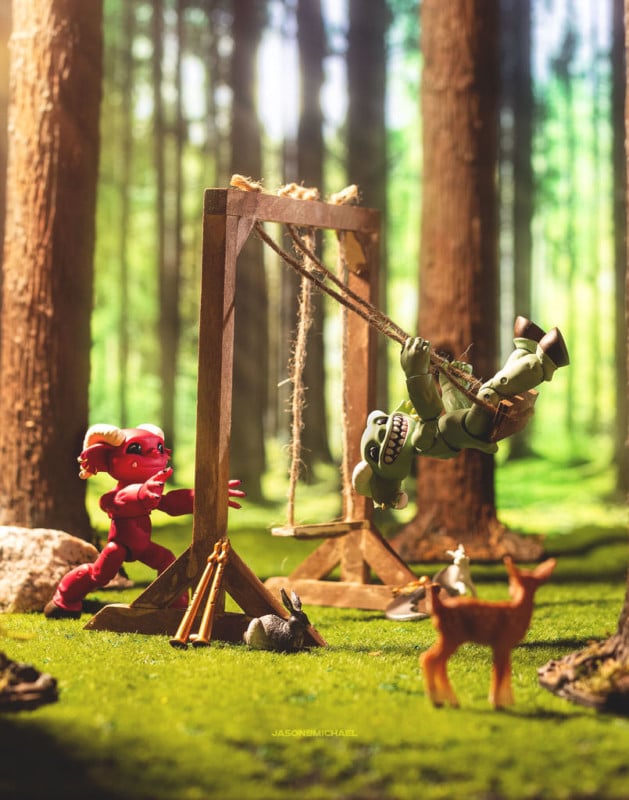 Michaels also enjoys the delicate process of creating the world around the figures through the use of custom props, such as using painted foam boards for the streets and walls, making trees out of paper towel rolls, hot glue, and acrylic paints. The experience as a whole is immersive and transports him into the fantasy world, which can be tough at times to break away from and return to reality when the shoot is done.
Michael's toy photography and the behind-the-scenes content are enjoyed by thousands across various social media networks. To keep up with the trends, one of the platforms Michale uses with a lot of success is TikTok.
"Growth on platforms such as Twitter, Facebook, and Instagram is onerous; TikTok on the other hand has the potential for tremendous growth because it isn't as regulated as the aforementioned platforms," he says.
Michael has also found that people enjoy following his process almost more than seeing the actual finished result and believes that is because "there's a curiosity that is quenched by peeling back the curtain, so to speak."
There is no one particular source of inspiration for the shoots. Micheal says he absorbs the experiences and moments around him, such as seeing a toy with the "right" expression or pose, having a discussion with someone, or it can arise from songs, a particular word, or memories that can generate new ideas.
To keep all relevant thoughts in one place, Michael uses a notebook that contains a "bunch of half-baked ideas."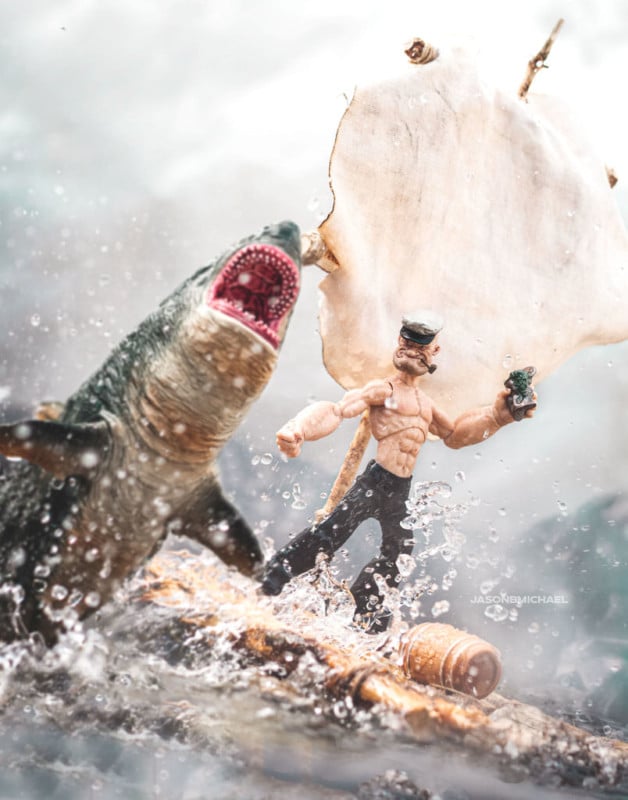 The hobby also brings his family together as his father enjoys building things and his mother joined in with ideas, too. Following the distance imposed by lockdown restrictions due to the COVID-19 pandemic, the family has recently reunited and Michael and his father have spent quality time together as recently building a scene of a Popeye figure on a raft floating in the water using everyday household items.
Other times, Michael sets up scenes that have a common denominator that is shared between the toy figures, such as the shot above of Inspector Gadget who takes over a scene from Batman and Commissioner Gordon.
More of Michael's toy photographs and behind-the-scenes videos can be found on his website, TikTok, and Instagram.
---
Image credits: All images by Jason Michael and used with permission.