Although the longevity of an institution is often associated with its success, it can sometimes indicate a past affiliated with enslavement as well. And when it comes to banks, this affiliation is more than likely considering how enslavement was perceived as profitable.
As time has passed, many of the banks that dealt with enslavement have gotten subsumed by larger banks and their names have been absorbed and forgotten. But just because they don't exist in name doesn't mean that the wealth they accumulated out of the enslavement of other human beings disappeared.
This phenomenon isn't limited to the United States. Many of the banks in Great Britain were formed by merchants who made their fortunes out of the trade of enslaved people and several Dutch banks are currently investigating their own ties to enslavement. These banks all went on to provide loans to other industries, and at the end of the day it's impossible to figure out exactly how much wealth was earned off the labor of Black people. And for many banks, profiting off of racist ideologies continued well after the slave trade was abolished. These are some of the banks you didn't know had ties to slavery.
Bank of America: Merging with enslavement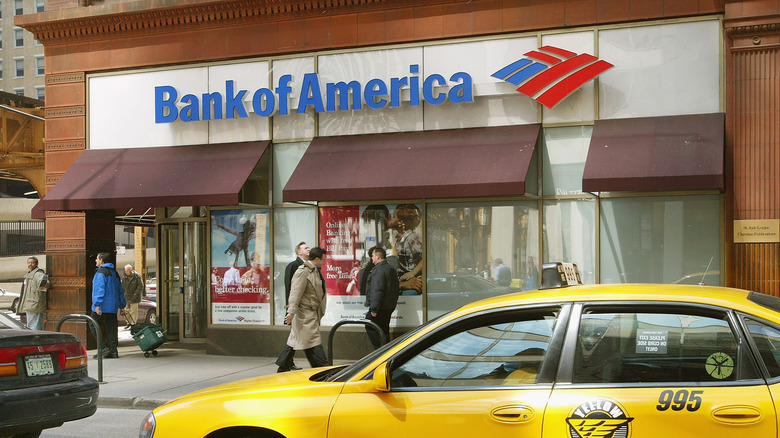 Tim Boyle/Getty Images
Although Bank of America is considered to have been founded by Amadeo Peter Giannini in 1904 as the Bank of Italy, its present form came out of NationsBank's 1998 acquisition of BankAmerica. And in the process of amassing wealth, it acquired more than one bank whose wealth had ties to slavery. In 2005, Heritage Research Center, Ltd looked into the history of 63 banks that Bank of America acquired over the years and found evidence for at least three banks whose wealth was associated with slavery.
The Bank of the Metropolis in the District of Columbia was opened in 1814 and would eventually become part of NationsBank in 1993, according to The New York Times. But while it was still the Bank of the Metropolis, there's evidence to suggest that they accepted a mortgage on enslaved people in Georgia in 1840. Boatmen's Savings Institution in St. Louis, Missouri also accepted a mortgage in 1863 that included enslaved people as collateral.
FleetBoston Financial, which merged with Bank of America in 2004 and was the successor to Providence Bank, was founded by John Brown. Brown's wealth was directly tied to the slave trade, and in 1797, he became the first American to be tried and found guilty under the U.S. Slave Trade Act of 1794. Brown would continue to engage in the trade of enslaved people and claimed victory over "Wicked and Abominable Combination I mean the Abolition Society," per "Papers of the American Slave Trade."
HSBC: profiting off of enslavement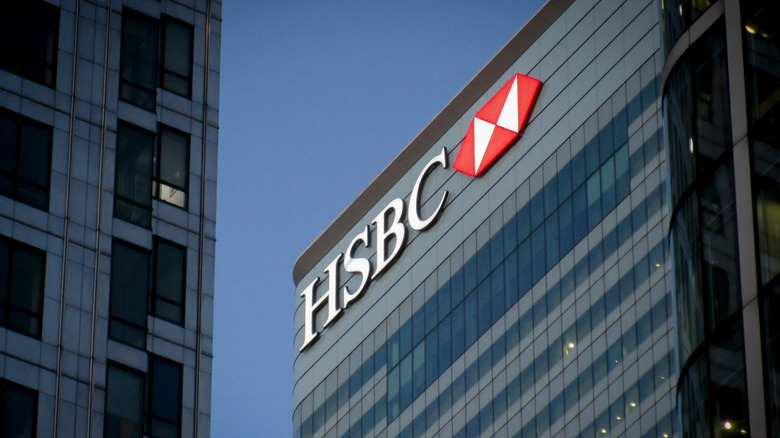 Willy Barton/Shutterstock
HSBC Holdings was originally founded in Britain's colony in Hong Kong in 1865 as the Hongkong and Shanghai Bank. Now known for providing banking services to "shell companies tied to looted government funds" and other dirty money schemes, according to the International Consortium of Investigative Journalists, many of the banks HSBC acquired over the years had wealth that was intimately tied with the slave trade.
According to "From Slavery to Citizenship" by Richard Ennals, Thomas Leyland, who was the mayor of Liverpool, founded Leyland & Bullin in 1807. In the years before the founding of the bank, between 1782 and 1807 Leyland transported over 3,500 enslaved people from Africa to Jamaica. The BBC reports that during one enslaving voyage in 1798, Leyland made a profit of more than $16,000, which comes to more than $1.2 million today. And when Leyland died in 1827, he was worth almost $1 million (more than $27 million today).
Leyland's bank was acquired by the Wales Bank in 1901, and in 1908, the Wales Bank merged with Midland Bank. HSBC would eventually acquire Midland Bank in 1992. According to The Guardian, with the merger with Midland, HSBC also acquired the wealth of London Joint Stock Bank, which had previously joined with Midland. And London Join Stock Bank's first manager, George Pollard, was given over $3,000 (over $300,000 today) as compensation for "giving up 134 enslaved people in Nevis."
Lloyds Banking Group: Enslaved collateral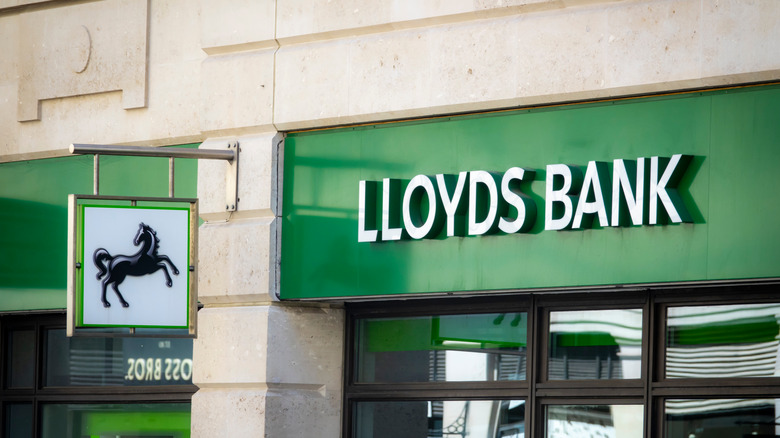 Willy Barton/Shutterstock
Not to be confused with Lloyd's of London, an insurance company with its own history with the slave trade, the Lloyd's Banking Group also managed to profit off of the enslavement of other human beings. Although Lloyds Banking Group states that as Quakers the founding Llyod family was involved in the abolition of the transatlantic trade of enslaved people, that didn't mean that they were against accumulating wealth that had been gained through enslavement.
Founded in the United Kingdom, The Guardian reports that at least eight former companies that have associations with Lloyds Banking Group "have links to claimants or beneficiaries" who received compensation from the Slave Compensation Act, which compensated enslavers after abolishing slavery.
On their website, Lloyds Banking Group acknowledges that several of their predecessors had ties to slavery, including the London & Brazilian Bank, which they acquired in 1923. The London & Brazilian Bank was heavily involved in slavery and would finance coffee plantations and secure mortgages "using the monetary value of enslaved people as collateral." According to the London School of Economics and Political Science, by 1869, the London & Brazilian Bank's portfolio, "human collateral [was] transferred to the bank to secure a substantial line of credit" equivalent to over $12 million today. At least one director of the London & Brazilian bank, John White Cater, was also an enslaver of approximately 80 women, men, and children.
Caisse des Dépôts: Wealth by ransom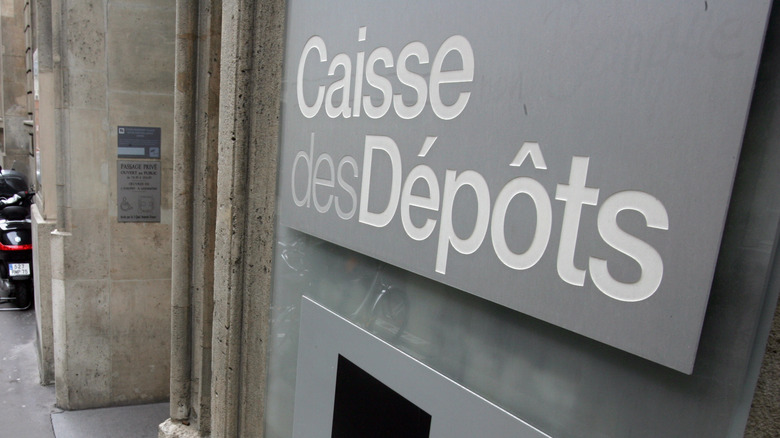 Bloomberg/Getty Images
The Caisse des Dépôts et Consignations (CDC), a state-owned bank in France, was created in 1816, 12 years after Haiti declared its independence from France, and is known as the "financial sword arm of the State." This metaphor is apt considering the hand that CDC played in extracting billions of dollars out of Haiti.
After Haiti achieved independence, France refused to acknowledge this independence and was committed to retaking Haiti as a colony, writes The Africa Report. And in 1825, the French King Charles X stated he'd recognize Haitian independence for a price of 150 million francs. This ordinance was delivered to Haiti "accompanied by a squadron of 14 brigs of war carrying more than 500 cannons." The choice was between cannons or the financial sword.
According to The Local, between 1825 and 1946, Haiti paid France the equivalent of what would be $21 billion today. This money would ultimately be paid to France though the CDC and Louis-Georges Tin, president of the Representative Council of Black Associations (CRAN), says that the CDC is responsible. "This ransom condemned Haiti to an infernal spiral of instability and misery." The agreement with Haiti mandated that the entire amount would be paid to the CDC within five years, "where it would be paid out to the despoiled slave owners (which was done)," according to "Capital and Ideology" by Thomas Piketty. The loan was also refinanced with new loans from private French banks.
Barclays: From enslavement to colonialism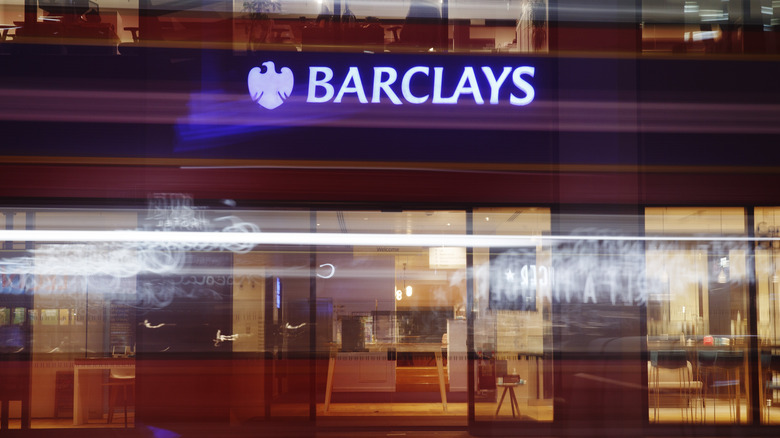 Bloomberg/Getty Images
Barclays Bank was founded in 1690 and by 1736 it took on the moniker it's known as today after James Barclay joined as a partner. According to "Capitalism and Slavery" by Eric Williams, the Barclay family is listed among 84 Quakers engaged in trade with Africa in 1756, and "slave dealing was one of the most lucrative investments." In addition, The Guardian reports that "two managers, a subscriber and three directors" were involved in the slave trade or received compensation for being an enslaver.
Brooklyn Paper also reports that Heywoods Bank, became part of Barclays through a merger in 1969, "took part in 125 slave-trading voyages, enslaving more than 38,000 Africans, more than 6,000 of whom died en route to the Americas."
After the trade of enslaved people was abolished, Barclays would go on to move "directly into Africa," according to "How Europe Underdeveloped Africa" by Walter Rodney. By 1919, Barclays had shares in the National Bank of South Africa, and by 1925, Barclays purchased the Colonial Bank and renamed it Barclays Bank (Dominion, Colonial, Overseas), per the Handbook on the History of European Banks. During the colonial period, Barclays would become one of the biggest banks in East Africa.
JPMorgan Chase & Co: Ownership and insurance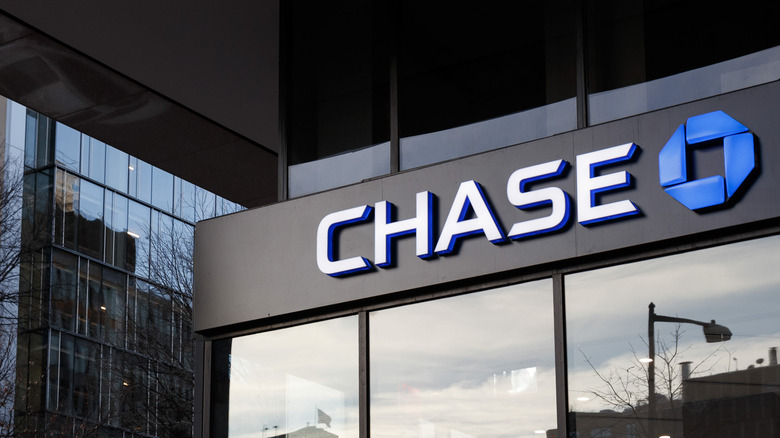 Bloomberg/Getty Images
Founded in 1799, J.P. Morgan Chase & Co's present iteration came about when J.P Morgan merged with Chase Manhattan in 2000. And in 2005, JPMorgan Chase & Co. became the first company to publicly acknowledge that its legacy banks were associated with the trade of enslaved people.
According to NBC, before the Civil War, at least two Louisiana banks, Citizens Bank and Canal Bank, accepted at least 13,000 enslaved people as collateral. Due to defaults, "the banks came to own approximately 1,250 enslaved individuals." Uhuru Solidarity writes that while some of the enslaved individuals were listed in documents by name, others were merely listed as "un-named individual." As part of their public acknowledgement and apology, Tulane Link writes J.P. Morgan Chase & Co stated that they would provide "$1 million a year for five years of scholarships" for schools in Louisiana to Black students from Louisiana.
Two banks that were part of Chase's predecessors, The Merchants Bank and The Leather Manufacturers Bank, were known for giving out insurance policies on the lives of enslaved people, The Nation reports. In 1852, they were mentioned on an information circular titled "A Method by Which Slave Owners May Be Protected From Loss." Although it's unclear how many policies were actually serviced, "the existence of the circular proves that the banks actively sought and were part of such business."
Citibank: On the backs of sugar workers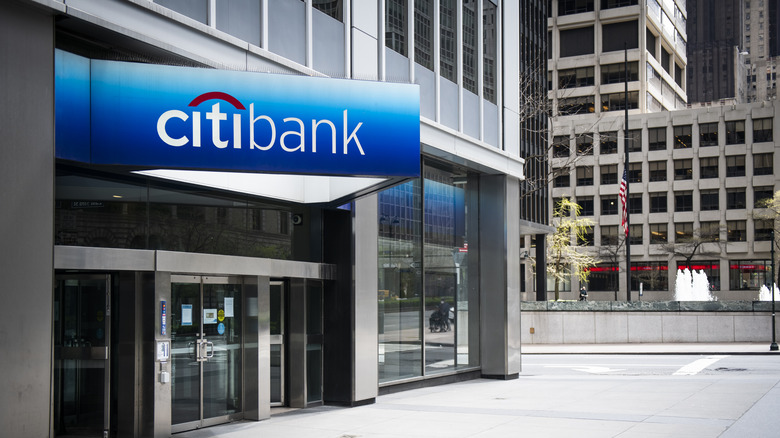 Bloomberg/Getty Images
Citibank was established in 1812 by about a dozen New York merchants and although it almost collapsed in 1837, its role in the enslavement of human beings ended up helping Citibank thrive. According to History News Network, after the bank almost collapsed, Moses Taylor was installed onto the Board of Directors. Taylor was reportedly a "commodity specialist," specializing in sugar from Cuba's plantations that was harvested by "enslaved Africans smuggled into the Spanish colony in violation of international bans on the trans-Atlantic slave trade." Through Citibank, Taylor helped Cuba set up companies and walked them through regulations and helped plantation owners maintain their business. With the sugar profits, Taylor helped Citibank buy "mines, railroads, and real estate."
Clint Smith notes in "How The Word Is Passed" that the financial industry in New York was "deeply entrenched in chattel slavery" by the early 1800s and money from bankers financed "every facet of the slave trade."
Huff Post also reports that before 1978, the largest U.S. lender to the apartheid government of South Africa was Citibank. And even after an international boycott, Citibank refused to stop providing vast loans to the private sector and spoke out against the boycott.
Royal Bank of Scotland: Founded on enslavement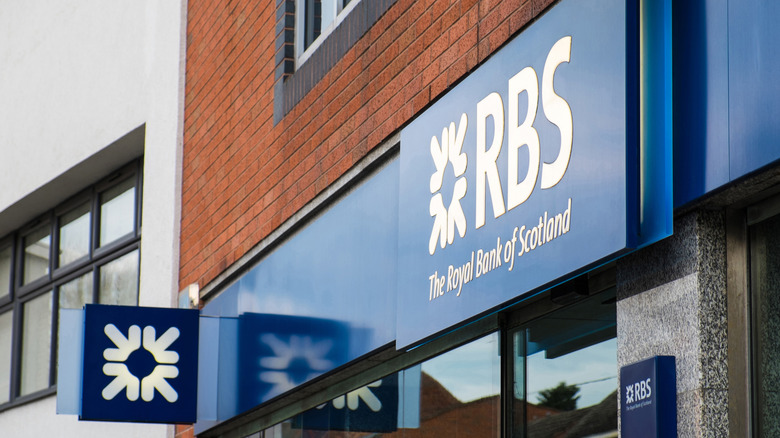 D K Grove/Shutterstock
Founded in 1727, the Royal Bank of Scotland acquired numerous banks that had financed enslavement in addition to having directors that enslaved people themselves. According to City, University of London's Historic Sources of Funding, at least 18 directors of the Royal Bank of Scotland are linked with plantation ownership or were given compensation as enslavers. The Royal Bank of Scotland released a report about this in 2009, but they have since taken it off the internet.
The Royal Bank of Scotland was also founded on the profits that were made off of the trade of enslaved people. It was formed out of the Company of Scotland Trading to Africa and the Indies and "the inclusion of 'Africa' in its name suggests that it would have [engaged in the trade of enslaved people], given the opportunity," writes NatWest Group.
In "Blood Legacy," Alex Renton notes that Deacon, Labouchere & Co, which later became a part of the Royal Bank of Scotland, also handled compensation payments to Scottish enslavers.
Arbuthnot Latham: Financing by plantations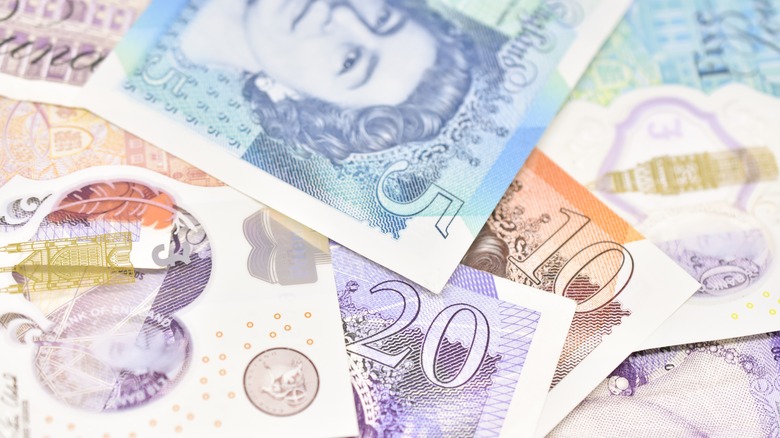 Ubermensch Matt/Shutterstock
Arbuthnot Latham was founded by Alfred Latham and John Alves Arbuthnot in 1833 in London, England. And according to The Guardian, both founders' families received large compensations for being enslavers after enslavement was abolished in parts of the British empire the same year that the bank was founded. And although Latham was a wine merchant, his fortune was made primarily through the sugar plantations he managed in the West Indies.
Latham reportedly received over $5,000, which today would be worth almost $500,000, as part of compensation for being an enslaver, and is estimated to have enslaved at least 400 people across three estates in Jamaica, Nevis, and Tobago. In 2020, the Bank of England issued an apology for the fact that Alfred Latham was an enslaver, along with numerous other directors and governors of the Bank of England.
According to the Arbuthnot Banking Group, Arbuthnot Latham was also responsible for financing "everything from coffee plantations in Ceylon to gold mining in South Africa to banana growers in Jamaica," as described by British Prime Minister Boris Johnson.
Truist Financial: Reclaiming the South
Hayden Dunsel/Shutterstock
Founded by Alpheus Branch and Thomas Jefferson Hadley in 1872 in Wilson, North Carolina, the bank that would become BB&T and later Truist Financial came from families that were enslavers. According to The Charlotte Observer, Branch's father owned 58 slaves before the start of the Civil War and Hadley's father owned 37. After fighting in the Civil War, Branch and Hadley returned to find that reconstruction was providing formerly enslaved people with freedom and opportunity. In response, they created their bank in order to provide credit to what they considered to be "the 'broken' Southern economy."
In July 2020, Truist's CEO Kelly King released a letter apologizing and denouncing "the role that our heritage companies played more than 100 years ago to perpetuate the atrocity of slavery and the repression of enslaved peoples and their descendants." However, King didn't specify exactly what the practices of repression were, or which institutions were responsible for those acts, and in an interview maintained that an in depth inquiry into the bank's history with enslavement is "unlikely."
And according to "The Law of Libraries and Archives" by Bryan M. Carson, in an unlikely turn of events, before Truist Financial acquired SunTrust Banks, SunTrust sued Houghton Mifflin over the publication of Alice Randall's "The Wind Done Gone," which parodied "Gone with the Wind" to reveal the problems of racism and how Mitchell's book "glamorized slave owners." SunTrust claimed this was a copyright violation, but they were overruled.
Wells Fargo: Profiting into the 21st century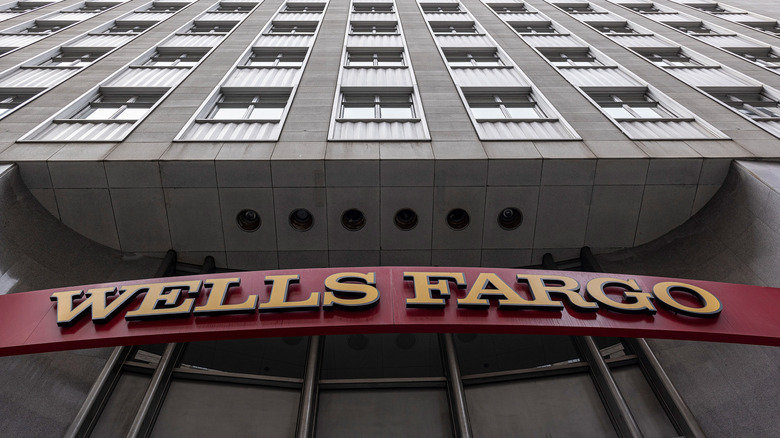 Bloomberg/Getty Images
The first Wells Fargo bank branch was founded in 1852 and within 150 years it would go on to acquire one of its predecessors, Wachovia Bank, which was the fourth-largest bank in the United States at the time. And in 2005, Wachovia Bank acknowledged that at least two of their legacy banks, the Bank of Charleston (S.C.) and the Georgia Railroad and Banking Company, owned dozens of enslaved people.
NBC News reports that while incomplete bank records make it difficult to know exactly how many enslaved people were controlled by the banks, the Georgia bank controlled at least 162 and the Bank of Charleston controlled at least 529 "as collateral on mortgaged properties or loans." It's unclear how many enslaved people the Charleston bank acquired when some people inevitably defaulted on their loans.
Well after enslavement was abolished, Wells Fargo maintained a racist attitude towards Black Americans and according to the Financial Times, targeted Black communities for bad subprime loans. A loan officer stated in an affidavit that employees at Wells Fargo also reportedly called these loans as "ghetto loans" and referred to Black people as "mud people." According to The New Republic, Black Americans were far more likely to hold subprime loans than non-Black Americans, which were "attempts by the lenders to get at the meager wealth created by Black families, and expropriate it," following in the traditions established by slavery.