Sign up to get our weekly column as a newsletter. We're looking back at the strongest, smartest opinion takes of the week from CNN and other outlets.
(CNN)In 1919, the English economist John Maynard Keynes called inflation a means by which "governments can confiscate, secretly and unobserved, an important part of the wealth of their citizens." If allowed to run out of control, the falling value of currency turns "the process of wealth-getting...into a gamble and a lottery."
In the century since, central banks have taken pains to keep inflation in check, and for decades they've largely succeeded. But the global economic disruption sparked by the Covid-19 pandemic may have awakened the inflation monster. On Wednesday, the Bureau of Labor Statistics reported a 6.2% increase in consumer prices over the past 12 months -- the biggest jump in 31 years. Food prices are up 5%, used cars up 26% and the normally volatile price of gasoline is up nearly 50% over the past year.
Though no one is predicting Weimar-style hyperinflation, with many economists viewing it as a "transitory" bump, the political danger is clear. President Joe Biden called the inflation surge "worrisome," as Julian Zelizer noted. "For all the attention that has been paid to education wars, the anti-vaccination movement or the fallout from Afghanistan, prices might turn out to be the biggest issue going into 2022."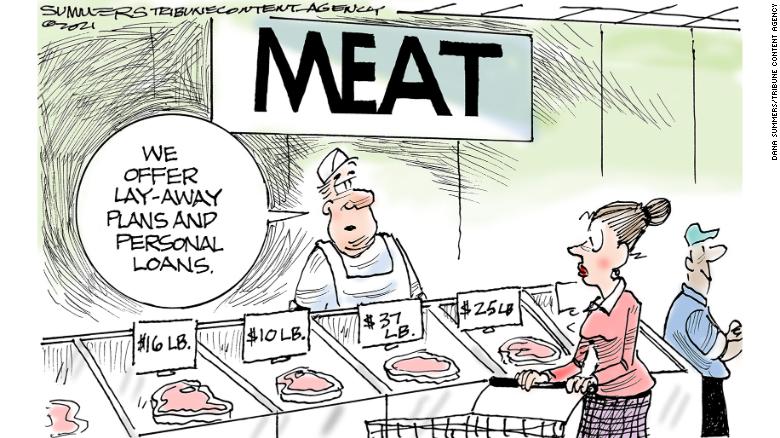 He pointed out that even when inflation has been moderate -- under 3% -- Republicans were able to use it to score midterm election gains against Democrats in 1966. "For the sake of Democrats," Zelizer wrote, "the President will have to do more than say the situation is worrisome. He will need to forcefully address how he is dealing with these concerns and how his policies will help to alleviate, rather than aggravate, the underlying pressures causing Americans to pay more for their goods."
Biden "has lost some of the connection he made with voters who embraced him as a centrist leader who would not only restore a sense of normalcy and decency to the country, but would improve the lives of middle-class Americans of all political persuasions, working with leaders of both parties," wrote Frida Ghitis. The economy is in better shape than many Americans realize, Ghitis observed, pointing to falling unemployment and higher household bank balances, but Biden's salesmanship has fallen short.
Why did inflation rear up? Economist Jeffrey D. Sachs ties it to the partial shutdown of the economy caused by the Covid-19 pandemic. "With tens of millions of service-sector jobs quickly ended, the government resorted to a massive transfer of income -- payments to households and businesses funded by deficits -- especially to keep household disposable income from plummeting. Money sent by the government to most Americans prevented the disastrous loss of income of tens of millions of households, which could have led to a massive collapse of consumer spending." As the pandemic eased, Americans had money to spend but the supply of things like new cars had been disrupted.
The short-term boost in inflation, Sachs argued, "should be controlled by ending stimulus spending, tightening monetary policy, slashing the budget deficit and increasing OPEC monthly oil production to counter the recent surge in global oil and gas prices." But he urged Democrats to pass Biden's "Build Back Better" social spending bill despite opposition from conservatives who say it will fuel inflation. "If BBB is paid for with taxes, then it won't add to the public debt or create long-term inflationary pressures."