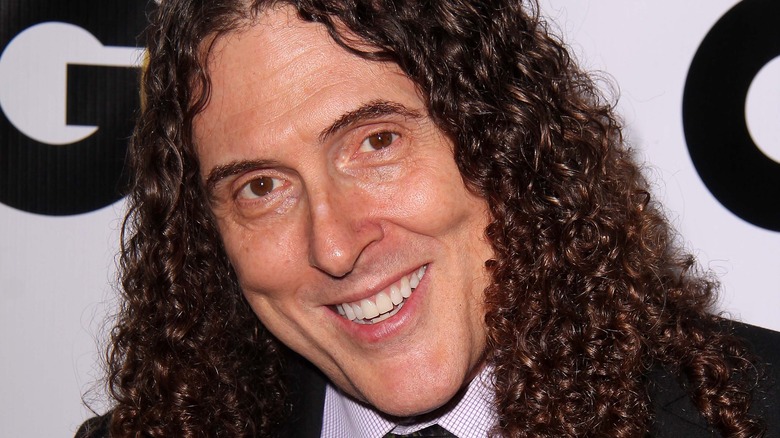 Kathy Hutchins/Shutterstock
Of all the musical artists to become absolute fixtures in popular culture, none have cemented their place quite so firmly as Alfred Matthew "Weird Al" Yankovic. When the king of pop parodies burst onto the scene in the early '80s, one could be forgiven for thinking that his schtick — mocking popular tunes of the day with silly, pun-laden, often food-based alternate lyrics — would wear thin after a pretty short time. But thanks to his shocking ability to adapt to the times, his crack backing band, and his absurd likability, Weird Al has not only endured but thrived throughout a whopping 40-plus-year career.
So, how does one kid get to be so darned weird, and how does such a weird kid make entry into and carve out enormous success in a notoriously cutthroat business dominated by cool kids? It may be a singular phenomenon because if there's anyone out there waiting to claim the Weird Crown, we haven't heard from them yet. Fortunately, with fans eagerly awaiting each new release and concert tour, it doesn't seem like Al is going anywhere anytime soon. And to answer those burning questions, you could check out the Daniel Radcliffe-starring feature "Weird: The Al Yankovic Story" — or, since that movie is 98% hilarious hyperbole and outright fiction, you could just read this.
Straight outta Lynwood
Al Yankovic was raised an only child in the L.A. suburb of Lynwood, California, and it may not surprise you to know that his parents were a little on the eccentric side. According to a profile in the New York Times, his father, Nick, and mother, Mary, were slightly overprotective types who doted on their son, even keeping a framed picture of him above their mantel and rarely allowing him out of their sight. Al (who skipped second grade, making him younger than everyone else in his class) was a slight, scrawny kid with no friends, but he didn't seem to care much; most of his free time was spent in his bedroom, doing suitably weird things.
For example, young Al had hanging on his wall a collection of license plates from all over the country; he also rigged up an elaborate pulley system so that he could flip his light on or off without getting out of bed, which, frankly, we wish we would have thought of. At the young age of seven, though, such frivolous pursuits gave way to one which would prove to serve him astonishingly well in his adult life — he took up a musical instrument, one which he would quickly master. We're sure we don't have to tell you which one, but as it turns out, it's a pretty funny story.
A traveling salesman and a fateful choice
According to the National Cleveland Style Polka Hall of Fame, one man was ruling over the polka genre at this time: Accordionist Frankie "America's Polka King" Yankovic. No, oddly enough, there was no relation. But when a traveling salesman came to young Al's door peddling lessons at a local music school, he was offering a choice between exactly two instruments — guitar and accordion. Per the New York Times, Nick and Mary figured that there might as well be more than one accordion-playing Yankovic in the world, so they signed Al up for lessons on the latter.
Al spent hours in his room getting down a variety of polka standards, but by the time he was in high school, his musical interests began to expand. In particular, he became laser-focused on the work of piano maestro Elton John, whose classic double album "Goodbye Yellow Brick Road" he improbably memorized, in its entirety, on his squeezebox. For any average high school student, this could be seen as eccentric, to say the least; for Al, it was a loud and clear declaration of his future career choice.
Al got his first big break in high school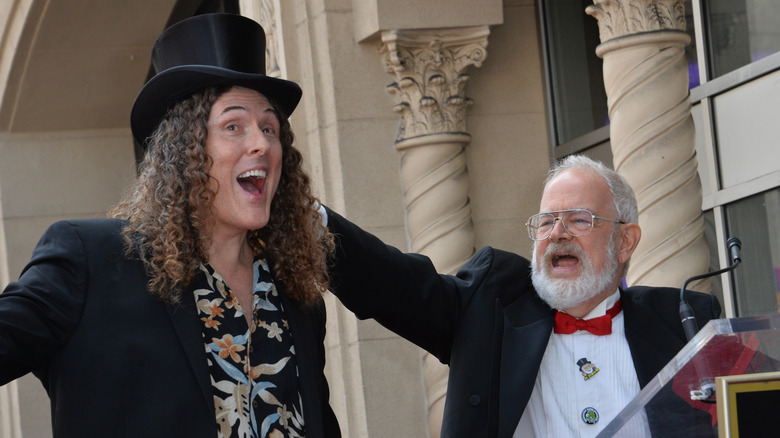 Featureflash Photo Agency/Shutterstock
As it happened, around this same time, Al Yankovic discovered musical comedy by way of Barret "Dr. Demento" Hansen, whose syndicated radio show had become a haven for quirky novelty tunes, twisted holiday classics (such as Elmo and Patsy's "Grandma Got Run Over by a Reindeer"), and absurd tunes sent in by aspiring humorists from across the nation (per NPR). In the liner notes to Weird Al's box set "Permanent Record," the good doctor described how his relationship with Al began when he was invited to speak at the youngster's school. Only 13 at the time, Al slipped him a demo tape — and while no songs made the cut, Al was nothing if not persistent.
Three years later, Al sent in another solicited tape, and its lead track was a wholesome, zany ode to his family's enormous jalopy of a car. This is how, at 16, Al got his first spin on the radio with "Belvedere Cruising." Demento described how, while it wasn't the greatest submission he'd ever had, the accordion stood out — "Rock 'n roll style accordion was not something one normally heard in 1976," he noted, "from anybody." Just weeks later, Demento received another submission from Al with a song titled "School Cafeteria," and when the tune quickly made his Top 10 most requested list, he figured he might have a budding star on his hands.
Al escaped his parents to earn his nickname in college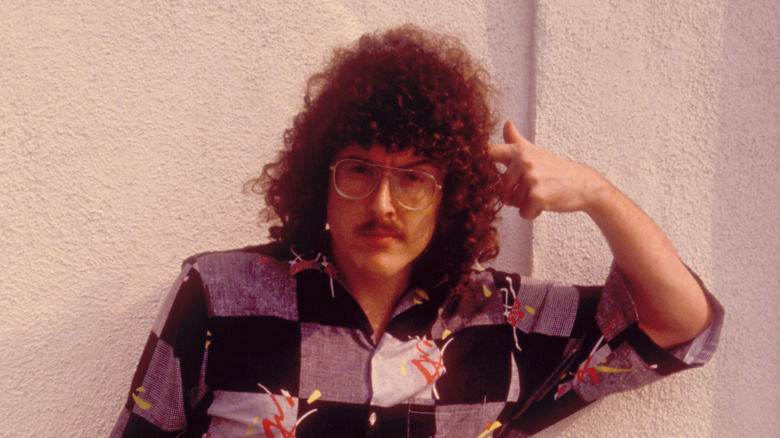 Bart Sherkow/Shutterstock
Al Yankovic graduated high school at 16, and speaking with the New York Times, he described how his parents were just a bit reluctant to let him go off to California Polytechnic State University, San Luis Obispo. When his folks attempted to tail him on the road to college, he says, he stomped on the gas as soon as he hit the freeway, giving them the slip like a hero in an action movie.
It was at Cal Poly that "Alfred" became "Al," a shortened moniker that he felt would make him more relatable. Unfortunately, being an accordion-toting loner who rarely opened his mouth, the rechristening instead resulted in his cool dorm mates slapping him with the label that he would carry into his professional life. One day, as Al was mock-glowering at a pack of kids in his dorm's common area (which had become a sort of ritual for him), one of them uttered the words that would change the music world forever: "Hey, it's f*****' Weird Al!" The name, of course, promptly stuck. One night, one of those cool kids by the name of Joel Miller asked Al if he actually knew how to play that accordion; Al responded by breaking out Elton John's "Funeral for a Friend/Love Lies Bleeding" note-for-note, which led to an all-night jam session, with Miller on bongos, that lit a spark under Al's musical aspirations.
Weird Al's legend grew with one open mic night in college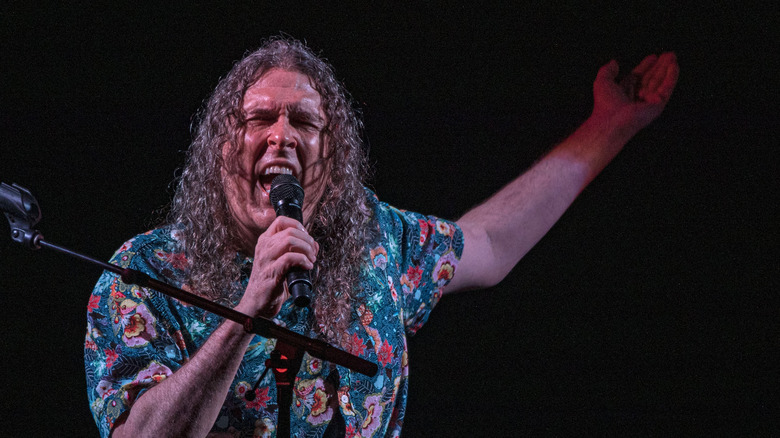 Daniel Knighton/Getty Images
It was at a small open mic night at Cal Poly in 1977 that this spark became a raging bonfire, per the New York Times. Al Yankovic and Joel Miller, accordion and bongos in tow, showed up to the event populated by earnest, guitar-slinging singer-songwriters, ready to give folks something they were not ready for, and the select few in attendance that night were treated to the first-ever public display of Weird Al's livewire zaniness. The pair tore through a set that included "Wipeout," the classical piece "Also sprach Zarathustra" (better known as the theme from "2001: A Space Odessey"), and a 10-minute medley of Al's creation that he claimed included literally every song ever written.
As it happened, the crowd was not just ready for Weird Al — they were positively enraptured by him, giving him and Miller a standing ovation and screaming for more as the pair left the stage. Al admitted that this was the moment that a light came on in his head, and for Miller's part, he knew immediately that this is what Weird Al had been born for. As the two basked in their triumph, Miller described his friend's face as "glowing like Chernobyl melting down."
A brush with a major label, and a fortuitous meeting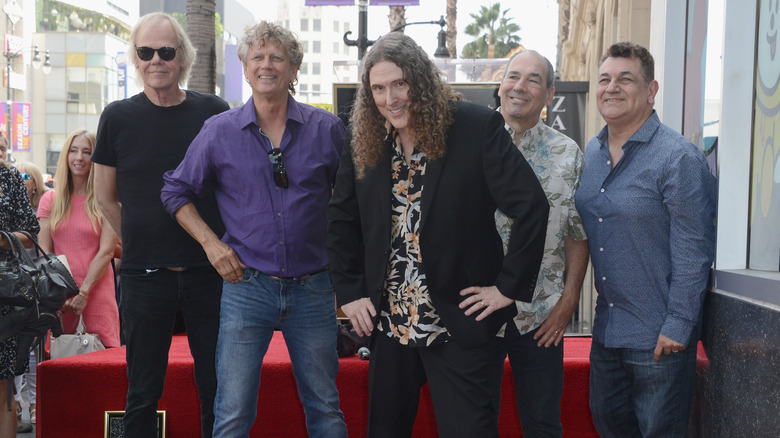 Albert L. Ortega/Getty Images
Weird Al continued with his submissions to Dr. Demento's show while attending college, and one of those tunes — "My Bologna," a parody of The Knack's "My Sharona" — got a strong enough reaction that Knack lead singer Doug Fieger convinced Capitol Records boss Rupert Perry to sign Al and release it as a single. With "School Cafeteria" on the B-side, the single was released — but went nowhere, prompting Al to decide to go ahead and finish school after briefly flirting with dropping out.
He didn't give up on his comedy aspirations, though, and his continued submissions to Dr. Demento proved popular enough that the doctor invited Al to perform a new parody, "Another One Rides the Bus," (a takeoff on Queen's "Another One Bites the Dust") live on his show, according to the liner notes of Permanent Record. Backstage, Al met drummer Jon "Bermuda" Schwartz, whose group was also there to perform. The two struck up an immediate friendship, and Schwartz agreed to "drum" on Al's accordion case and provide wacky sound effects for his performance. Thus, the first piece of Weird Al's airtight, ridiculously versatile backing band — which would come to include bassist Steve Jay, keyboardist Rubén Valtierra, and guitarist Jim West, per Weird Al's website — fell into place, and has remained ever since.
Weird Al discovers the music video
Weird Al's string of hits with Dr. Demento's listeners ensured that he wasn't without a label for long. He was picked up by Scotti Bros., which included all of those hits and more on his self-titled 1982 debut album, per Weird Al's official website. As fate would have it, MTV had made its debut the summer of the previous year, and it wasn't long before Al rightly figured that the fledgling music video medium just might be good for his zany schtick (via The Washington Post).
While still toiling away at his day job in the mailroom at Westwood One, Al shot the video for "Ricky," an "I Love Lucy"-based parody of the current smash hit "Mickey" by Toni Basil. Funnily enough, it was his first and only '80s video effort in which he did not sport his signature frizzy hair, pencil mustache, and glasses; instead, he morphed into Lucy's husband Ricky Ricardo in a video that also featured future voice acting legend Tress MacNeille as Lucy, according to IMDb. MTV gave the spoof enough exposure that the song cracked the Billboard Hot 100, and Al wisely decided that he'd had enough of working in the mailroom. Suddenly, he was on his way to TV stardom — and that rise would happen a lot more quickly than anyone would have suspected.
Weird Al hits the big time with Eat It
For his sophomore album "In 3-D," Weird Al served up a batch of future classics, including a few soon-to-be beloved originals like "Midnight Star" (an ode to sensationalistic supermarket tabloids) and the slasher movie advertisement "Nature Trail to Hell." But his parody game was seriously on point by this time, and along with spoofs on current hitmakers Men Without Hats and The Police, Al included a tune that would become a signature of sorts: "Eat It," a takeoff on Michael Jackson's "Beat It," which admonished a picky child to quit complaining and chow down, already.
That the tune sent up a #1 single from the biggest hit album of the '80s didn't hurt, but the factor that really sent the song over the edge was the video — an ingenious, near-shot-for-shot recreation of Jackson's video, which MTV quickly plugged into its heavy rotation (per The Takeout). The tune detonated across the land like a comedy bomb, and when the dust settled, Yankovic had scored a #12 Billboard single, a platinum album, and his first Grammy Award for Best Comedy Recording. Weird Al would return to the Jackson parody well in the future, but it was that first trip to the well that transformed him overnight from a quirky MTV novelty to a genuine, bona fide star.
A brief flirtation with movie stardom
Around 1985, as Weird Al recalled in a retrospective for the AV Club, his longtime manager Jay Levey began thinking about the next step. Since MTV superstars like Prince and Madonna were making the jump to feature films, it's understandable that Levey floated the idea that this just might work for Al, as well. Together, they conceived of a conceit that would take full advantage of Weird Al's skills as a parodist: A film focused on a sad sack dreamer who inherits a small UHF TV station, and who is prone to Walter Mitty-like flights of fancy that could serve as a hook for Al to serve up all manner of film spoofs.
The result, 1989's "UHF," has become a beloved cult classic in the years since its release — which, of course, is to say that it was not successful during its theatrical run. The flick had the bad fortune of being released during a summer that also saw the release of "Ghostbusters II," "Indiana Jones and the Last Crusade," and Tim Burton's "Batman," which put it behind a king-sized 8 ball. Levey, who co-wrote and directed, lamented that the film "couldn't compete ... we just simply couldn't survive in that pool." But while Al's film career appeared to be a non-starter, his music proved to be far more enduring than even his most appreciative fans ever would have thought.
Weird Al's rise to fame involved no burnt bridges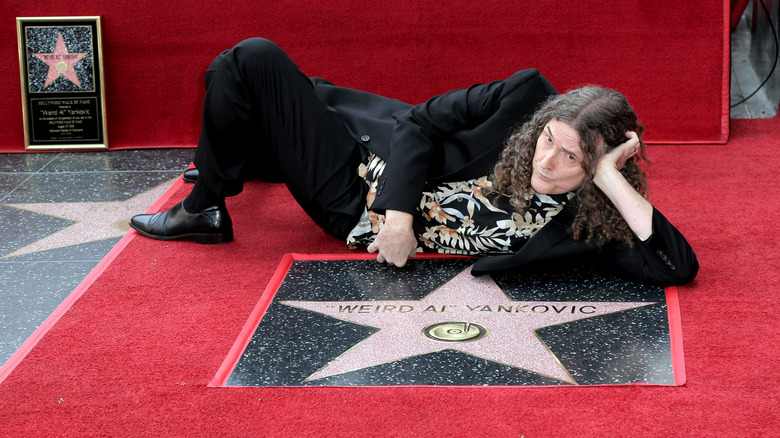 Kathy Hutchins/Shutterstock
The reasons for that enduring success are many, and they're not all totally wacky. Simply put, Weird Al is a freakishly good singer, and the backing band that has always been his secret weapon has only gotten tighter and more versatile over the decades. A good number of his original tunes have become classics in their own right; any fan will go to bat for "The Night Santa Went Crazy," "One More Minute," or "The Biggest Ball of Twine in Minnesota" in a heartbeat. But with his parodies, he's always managed to find a cultural sweet spot, no matter the era — and he's done this with the full consent of everyone he's ever lampooned.
According to the The Washington Post, Weird Al has never once recorded a parody without getting the original artist's permission (even though a slight misunderstanding with Coolio over the hit "Amish Paradise" briefly threatened that record, per Newsweek). Al has gone so far as to call Kurt Cobain on the set of Saturday Night Live and track down Iggy Azalea at a concert in order to get their blessings to send up their tunes, and he's rightly proud of the fact that the targets of his looniness are never blindsided by it. "I don't want to hurt anybody's feelings," he told the Post. "That's not how I live my life. I like everybody to be in on the joke and be happy for my success. I take pains not to burn bridges."
A long wait for two career milestones
Jeff Hahne/Getty Images
Throughout the '90s and into the '00s, Weird Al seemed to keep popping up with a new and hilarious single every time the public at large threatened to forget about him: 1996's "Bad Hair Day" yielded the classic "Amish Paradise" and its hysterical video; 1999's "Running with Scissors," which finally saw Al ditch the frizzy hair and glasses for long locks and contacts, gave us the epic "Star Wars Episode I: The Phantom Menace" recap "The Saga Begins," done to the tune of Don McLean's "American Pie"; 2003's "Poodle Hat" scored with "Couch Potato," a TV-focused spoof of Eminem's "Lose Yourself."
But it wasn't until 2006, with the release of the brilliant, platinum-selling "White and Nerdy" (a spin on Chamillionaire's "Ridin"), that Weird Al finally scored himself a Top 10 single, per ARS Technica. Al had to wait even longer for an even more distinguished honor; in 2014, his album "Mandatory Fun" became his first LP release to top the Billboard chart — and what's more, it debuted in that position (via Us Magazine). As of 2022, it's Al's final full-length album, although the one-off singles have kept coming in the intervening years.
From outcast to icon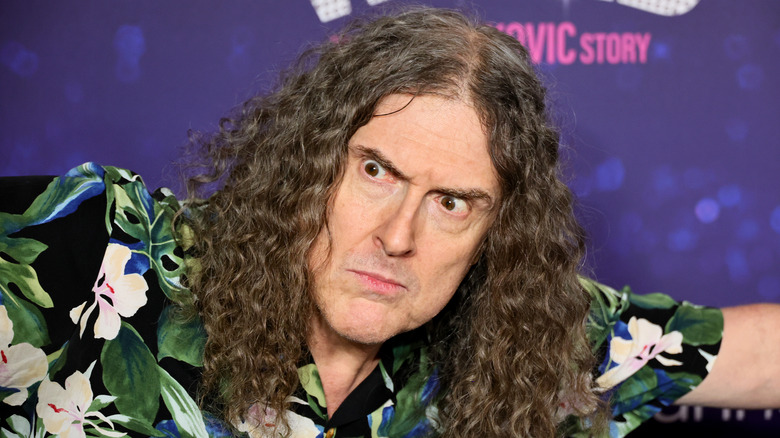 Theo Wargo/Getty Images
He may have begun as an interloper in the world of popular music, eager to throw a big fat pie in the face of whoever happened to be topping the charts at the moment, but Weird Al has become more than that — much more. He's not just respected by his musical peers, he's beloved, with a list of accolades far too long to print here. Chamillionaire may have summed it up best when he told The Houston Chronicle, "It's one thing to go platinum. Where do you go from there? Then Weird Al calls" (via Slate).
Weird Al's concerts, as noted by The New York Times, have become the stuff of legend — usually running two-plus hours and chock full of every hit the fans could reasonably expect to hear, with Al often spending just as long rubbing elbows with those fans after the show.
For all of his success, he's never failed to remain good-natured, polite, and of course, wacky — all reasons why "Weird: The Al Yankovic Story," which reinvents his entire career as a typical ego- and drug-fueled rock 'n roll roller coaster, serves as the ultimate send-up (via the Toronto International Film Festival). It seems unlikely that there will ever be another artist quite like "Weird Al" Yankovic — but we like to imagine that they're out there somewhere, tooting on an accordion while gazing wistfully out the window, and wondering what it'd be like if Harry Styles wrote a song about his love for black olive and mushroom calzones.